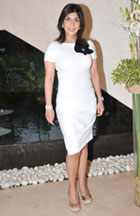 Dr. Namita Jain's rewarding career in the wellness space spans over twenty five years. Her impressive list of qualifications; prestigious international certifications in numerous health-related disciplines makes her what she is today, a highly regarded health and wellness specialist. Over the years, she has continuously kept ahead of the curve, by staying on top of new trends and techniques in her field.
Namita holds the following certifications
Lifestyle & Weight Management Consultant
American Council of Exercise (ACE)
Clinical Exercise Specialist
American Council of Exercise (ACE)
Health Specialist
American Council of Exercise (ACE)
Group Training Specialist
American Council of Exercise (ACE)
Health & Fitness Instructor
American College of Sports Medicine (ACSM)
Group Health Instructor
Aerobic & Fitness Association of America (AFAA)
Pilates Master Trainer
Pilates UK Institute
Certified in Aerobics and Step by IDEA Fitness instructor and Reebok Master Trainer Fred Hoffman
Along with her professional qualifications, Dr. Namita Jain has to her credit a number of other achievements.
Diploma and certification (Bronze, Silver and Gold) in Ballroom dancing and Latin American dancing from the Federal Association of Teachers of Dancing
Certification in Yoga from Antonio Kruger, South Africa
Attended several international workshops in Step/ Aerobics/ Strength training
Swimming champion & winner of accolades like the Y.M.C.A. swimming competition.
Her company 'Live active' and brand 'Jaldi Fit' are names to reckon with in the health and lifestyle products and services.
She is a contributing writer for numerous leading newspapers and magazines on nutrition, fitness and various health related issues.
She has authored several books and her best sellers include:
'Jaldi Fit with Namita Jain' (Book + DVD) - A complete workout guide for Adults
'Jaldi Fit Kids'- 10 Food & Fitness Mantras for children
'Jaldi Fit A to Z' – Body, Mind & Soul, Wellness encyclopedia
'The Four Week Countdown Diet' – a diet and lifestyle guide
'Figure It Out'- The ultimate Guide to Teen Fitness
'Sexy @ sixty' – Health and beauty at every age
How to lose the last 5 kilos – & feel on top of the world
Fit pregnancy – The complete health plan for you and your baby
9 to 5 Fit – A working persons guide to looking great and performing better
Post Baby Bounce
Dr. Namita Jain is a Wellness Specialist at Bombay Hospital. She was the nutrition partner for the Miss India Pageant 2012, and a celebrity nutritionist on the Food Food TV channel.
She has been a recipient of international and national awards in the field of health and wellness, such as the 'The Department of international women's excellence award', and The Savvy Excellence award' and an honorary PHD Doctorate from KIESIE International University, Korea.